Learn to skate
general information
The Learn-to-Skate Program is designed to help skaters feel comfortable on the ice and teach basic balance, coordination and maneuvering. The program is also based on the US Figure Skating basic skills program. Class instructors make learning fun with songs, games, toys and challenges for younger skaters.
Skaters must be able to walk in skates to participate. It is recommended that all first time skaters regardless of age try on and walk in a pair of skates off of the ice PRIOR to registration. Absolutely no refunds are issued once a skater is registered. Classes with 4 or less skaters WILL BE COMBINED with other classes or be canceled.
For more information, please contact Figure Skating Director, Charice Herschbach @ Ext.121 or via e-mail at cherschbach13@yahoo.com.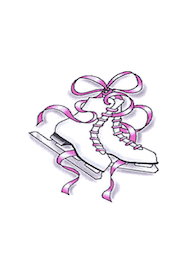 Arctic Ice Arena's 2023 Holiday Exhibition
The Arctic Ice Arena's Learn to Skate program is offering a Holiday Exhibition which will be held Friday December 16th, 2022 from 6:30pm-8:00pm. The exhibition is intended to give all of our basic skills and competitive skaters an opportunity to perform. Any skater at any level who has a private coach can register. Anyone who needs help finding a coach can contact Charice Herschbach (cherschbach13@yahoo.com). The coach will provide music and choreography for an additional fee. Practice times and lessons will be worked out with the coach (also an additional fee). Registration for the exhibition will be online at arcticicearena.com. The registration fee is $45 and the deadline to register is Dec 1. Space is limited and will be on a first come first serve basis. Music must be submitted to Charice by Dec 1.
For the Arctic's 2023 Holiday Exhibition Registration Form: Click Here or Register Online
TURN IN FORM AND FEE BY DEC 1, 2023