Hockey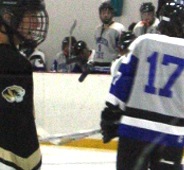 Hockey programs at Arctic ice arena
Arctic Ice Arena offers a wide variety of hockey programs and activities for participants of all ages and skill levels. If you're just starting out, don't miss our popular programs.
Registrations are currently being taken for the following programs:
Information
Tot hockey
Instruction starts at the very beginning helping to build the child's confidence and teaches the student the basic skating skills of: balance, one- and two-foot glides, forward swizzles, forward pushing, backwards wiggles and swizzles, two-foot turns, walking sideways and two-foot snow plow stops. Learn more.
intro to hockey
This class will introduce the children to the "stick" skills of the game: stick handling, passing, and shooting, as well as refining the skills learned in Tot Hockey. The students advance through a series of levels until all have been mastered. Each student progresses at his/her own rate. Each Intro to Hockey class features 45 minutes of instruction, followed by a 15-minute mini-scrimmage. Learn more.
Men's league
Arctic Ice Arena offers year round Men's Leagues including a summer, fall and winter league.